Deepwater horizon 사건에 대해서 다르다가 생소한 용어들이 있어서 확인을 해 보았다.
Shoe Track
Shoe track is a space between casing or liner shoe and the uppermost collar, which keeps contaminated cement after cementing operation has been performed. This term is also used to describe the whole downhole cementing configuration, which consists of wiper plugs, collar or collars, cement and a shoe. These components have to be drilled out to proceed with drilling of new formation. The process is often time-consuming and damaging for the drilling tools. At the same time shoe track drilling is a difficult operation to analyze due to big variety in float equipment design and materials used. Therefore, oil companies often rely on "best practices", developed throughout years of experience (API SPEC 16D, 2004).
Kill line pressure on a oil rig
So, what is a kill line on an oil rig? A kill line is a high-pressure line that connects the mud pump and the well. It allows the drilling fluid to get pumped into the well to control a looming blowout. The kill line is usually connected below the BOP for efficient oil well control operations. Its other name is the choke line.
(BOP team, 2022)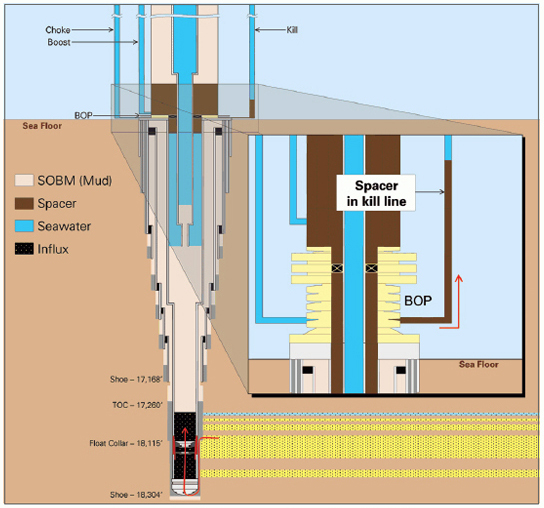 Blowout Preventer Role in Oil Industry
A blowout preventer (BOP) helps to prevent potential blowouts during oil and gas drilling. Oilfield operators use the equipment to seal, control, and monitor wellbores to avoid the uncontrolled release of natural gas or crude oil from the well. These blowout preventers get installed in stacks to ensure they are highly efficient and functional (BOP team, 2022)
Positive Kick (Wellbore Influx) Indications
1. Increase in flow show
Without any increasing in flow rate in, increase in return flow indicates something coming into wellbore while drilling. Therefore, flow show instrument provided by the rigs or service companies must be checked and calibrated frequently.
2. Positive flow when pipe is static
Every time that pipe in static condition. Trip tank with correct filling system must be monitored all time by both rig personnel and mud logger. If volume in trip tank increases, personnel must confirm flow check and prepare to shut the well in(DrillingFormulas.com, 2010).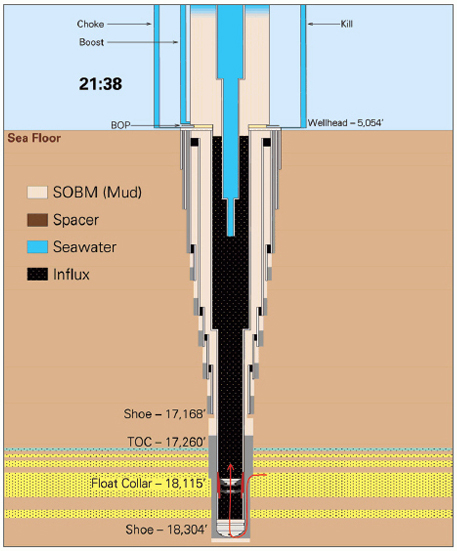 Multiplex (MUX) Control System
A system utilizing electrical or optical conductors in an armored subsea umbilical cable such that, on each conductor, multiple distinct functions are independently operated by dedicated serialized coded commands. Note: Solenoid-operated valves in turn activate pilot-operated valves assigned to functions.
Source:
ROV
What is ROV?
ROV stands for remotely operated vehicles, primarily used for subsea operations. In simple terms it's an unmanned subsea robot that is used for performing a wide variety of jobs under water. ROV's are used extensively both in the initial construction of a subsea development and the subsequent repair and maintenance jobs (SS Sidhu, 2019).
References
API SPEC 16D. (2004). Specification for Control Systems for Drilling Well Control Equipment and Control Systems for Diverter Equipment, Upstream Segment, Second Edition
BP. (2010). DEEPWATER HORIZON ACCIDENT INVESTIGATION REPORT. https://www.sec.gov/Archives/edgar/data/313807/000119312510216268/dex993.htm
BP. (2010). BP Deepwater Horizon Accident Investigation Report. https://youtu.be/zE_uHq36DLU
BOP team. (2022). What is a Kill Line on an Oil Rig?. https://www.bop-products.com/blog/bop-stack-configuration/what-is-a-kill-line-on-an-oil-rig/
Ekaterina, W. (2015). Shoe track drillout: analysis of factors affecting drilling efficiency. https://uis.brage.unit.no/uis-xmlui/handle/11250/300694
SS Sidhu. (2019). A Career in Marine Remotely Operated Vehicles (ROV) Industry [Q&A]. https://www.marineinsight.com/careers-2/career-in-marine-remotely-operated-vehicles-rov-industry/
DrillingFormulas.com. (2010).Positive Kick (Wellbore Influx) Indications. https://www.drillingformulas.com/positive-kick-wellbore-influx-indications/